Do you want to get the best deal possible when you make your next vehicle purchase? In this blog post, we'll give you some tips about how to best use MotoMiner, so you can save more of your hard earned cash!
1. Set your budget
As with most financial decisions, the first step in the car buying process is establishing your budget, either from a total cost or monthly payment standpoint. This typically helps you recognize what you can afford, whether new, certified, or used. Many consumers also have a brand loyalty, so you may want to select a specific brand and model.
2. Do a search
Once you have made these decisions, do a search on MotoMiner using your criteria, and it will return all vehicles matching that criteria within a 50-mile radius of the ZIP code you entered. By default, MotoMiner sorts the vehicles by "best deals first."
3. Find a "great deal"

A vehicle is categorized as a "great deal" based on both local and national comparisons. If you don't see any "great deals," expand the mileage range until you see at least one.
4. Narrow your focus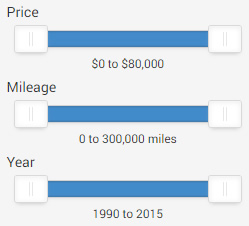 The next step is to narrow down your selection by using filters, according to your preference and budget. But what do you do when you add filters, but there is not a "great deal" presented? This could be due to the market location, the type of vehicle, etc. In these rare cases, ensure you have expanded the mileage range to the maximum available within MotoMiner. You may also want to change the ZIP code to reflect a larger metropolitan area than your current location. For example, if you are searching in Springfield, Missouri, then change your search to a Kansas City or St. Louis ZIP code.
5. Save your work

Remember that once you get your search just right, you can save the search and come back to it later to review and see if any new deals are available.
6. Engage the dealer
Now the fun begins. Once you have found a "great deal" matching your budget, make, model, trim, or other requirements, you can click on the vehicle in MotoMiner to go directly to the dealer's website and schedule an appointment to test drive your next vehicle. You can feel confident in your decision with both the dealer and vehicle selected.
Sum it up
MotoMiner provides you a "single source" to search the most available inventory online, based on your criteria, and organized by the best deal. MotoMiner then allows you to work directly with the dealer. The greatest value to you is that MotoMiner doesn't require any personal information in this process!
We hope you enjoy the value MotoMiner provides and welcome your feedback for future improvements.