Media Platform
Automotive Digital Advertising Services for Media Companies
You have a lot of options... why choose MotoMiner?
Designed for Media Companies

The MotoMiner Platform solution provides media companies the opportunity to white label our advertising products and integrate into their existing dealership offerings. We utilize a multi-service approach to digital marketing, allowing your organization the ability to offer dealers several different digital advertising services. Working together, these services deliver the most advertising value to you and your dealers.

Designed for Dealers

We know dealers optimize their sites for conversions. When shoppers click on vehicles of interest, all MotoMiner services send them directly to the vehicle detail page (VDP) on the dealer's website. This enables dealers to get the most value from their advertising dollars. Additionally, the entire MotoMiner Platform builds an ever-increasing audience of shoppers that dealers can market to. This kind of value can be found nowhere else.

Designed for Shoppers

Whether they're in the market or just looking, shoppers need relevant vehicles displayed to them quickly and accurately. Each of our platform's services bridge the gap between a dealer's inventory and a shopper. Regardless of their buying stage, we ensure shoppers get the most up-to-date vehicle information directly from the dealer.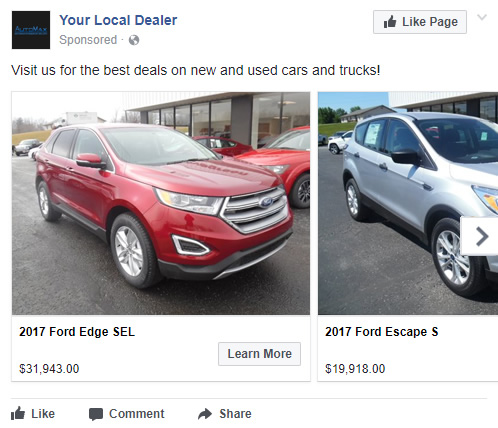 Facebook Dynamic Ads
Promote and retarget dealer inventory with Facebook dynamic ads!
Utilizing the latest Facebook advertising technology, MotoMiner gives you access to your dealer's live inventory, so you can advertise their vehicles, not just a static image, on the Facebook ad network. Facebook ad campaigns can then be created using this integration, enabling nearly unlimited combinations of retargeting, geographic, or behavioral campaigns.
Take advantage of these powerful dynamic ads that deliver a much higher ROI and conversion rate than traditional static ads. Deliver a dealer's live inventory to the right buyer at the right time.
Dynamic Inventory Ads
Display a dealer's live inventory in banner ads across the web!
With MotoMiner's dynamic ads, you are no longer confined to static banner ads that are only for dealer branding. Unlike traditional static ads, MotoMiner's dynamic ads automatically include up-to-date dealer inventory, without having to generate new creatives every time inventory changes.
Using a demand side platform (DSP), you can target in-market shoppers and serve them a dealer's live inventory.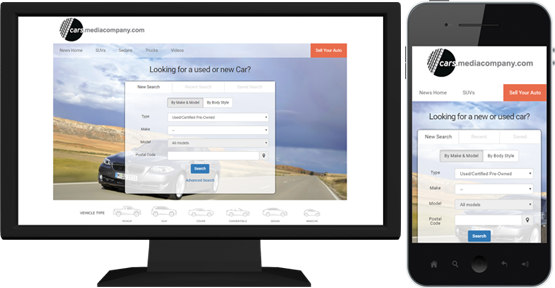 White Label Search Engine
Leverage the world's largest auto search engine, locally!
Create or expand your existing local market branding to provide shoppers an auto search website, containing nearly 6 million searchable vehicles.
Offer additional options in your dealer marketing packages to promote their vehicles in search results or offer banner ad spots across your site. There are no setup fees, so there are no hard costs until revenue is in place.
API
Integrate existing systems with the MotoMiner Platform!
Where appropriate, the MotoMiner API enables your technical teams to merge our technologies into your existing platforms. These capabilites include, but are not limited to, the ability to search for and add new dealer partners to your accounts and configure Facebook Dynamic Ad product catalogs.
The MotoMiner API is constantly being enhanced by our technical team, enabling seamless cross-system integration capabilities.
Exports
Get quick, easy access to your dealer's inventory!
For organizations who provide ads on other third-party networks, specialized in-house reporting, or other inventory-based marketing services, MotoMiner offers the ability to export a dealer's inventory to you.